X-Groove
X-Groove is a powerfull  AI drived groove addon generator for Windows specially suited for Techno, HardTechno, TechHouse and EDM music styles! Including a huge sample library it is ready to generate an infinite amount of grooves!
X-Groove is a really handy machine capable to generate different kinds of usefull grooves and addons for your music!
If You feel your track is missing 'something' just load X-Groove and find the solution!

It feature 2 groove channels where each one is capable to load a full folder of one shot wave samples into memory, we will refer to it as the 'sound bank'.
1 fx can be assigned to each groove channel , choosing from Drone, Echo, Ping and Driver fxs. An additional reverb fx can be assigned to each channel too.
A multifilter fx can be used on both channels or disabled at all.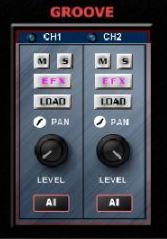 It come with 10 factory sound banks including a total of 1713 quality samples covering various examples of what is possible to do with this machine.
Factory banks are: Acid, Bass Stabs, Claps, Closed Hats, Congas, Hard Percs, Hardstyle, Knoks, Metallic, Old School, Percs, Percussions, Percussions B,
Rides, ShakersTambs,Chord Stabs, Tambs,Techno Perc, Techno Toms, Toms.
Thanks to the AI it generate a groove and a full midi keyboard is then fullfilled with lot of variations of that groove.
Variations include both sound and sequence differences. Will be so easy to find the perfect one that fit your song!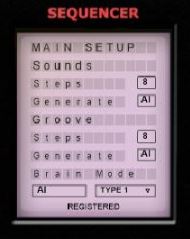 It is a tool that for sure you will not forgot to utilize in various situations.
Also if born to be used simultaneoulsy with JustBeat in order to produce from minimal to very complex techno music parts,
it can be used alone whenever the musician would be looking for a groove addon to be layered to his production.
Note: Is possible to utilize only one instance of the instrument into your DAW!
Note: This is for Windows only!
Generate loops up to 32 steps
20 Factory soundbanks with a total of 1713 quality samples
Effects rack including Robot, Echo, Ping, Driver, Filter and Reverb fxs
4 Different types of AI or in alternative 10 Prefab fixed styles to drive the generator
2 Groove channels with indipendent AI
Reference 4x4 Beat channel
Quantity knob to define how many elements you desire in the groove
Sidechain knob to apply a kickdrum sidechain compression to the groove
Swing
32 Presets
VST2.4 and VST3
32/64 bits
Jonathan Peters
The perfect addon for JustBeat!!!
FAC3OFF
Lot of great grooves from this baby! Very nice sounds too!
Bassfreq
That's nuts!! wow!!!
alfred sello kgole
is such a wonderful vst plugin iv'e been looking for all along