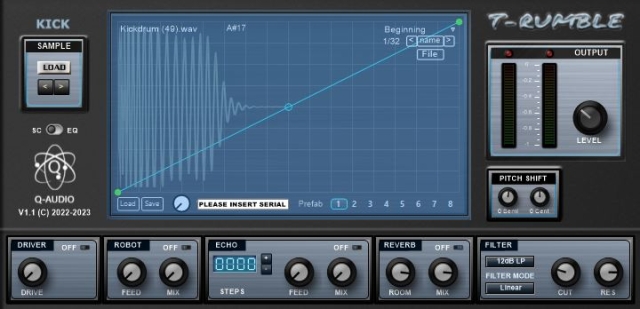 T-Rumble
T-Rumble is a powerfull techno rumble generator for Windows specially suited for EDM, Techno, Hard Techno and Tech House music styles. Get an infinite number of fat and clean rumbles fast and easy with T-Rumble!
T-Rumble is a powerfull techno rumble generator. As a particular fx chain applied to a kickdrum become almost a standard for the "bassllines" in the dance music,
we decided to introduce a new and exciting vst to make them easy! Its sound is fat, clean , compressed, and it can produce a very large variety of techno rumbles.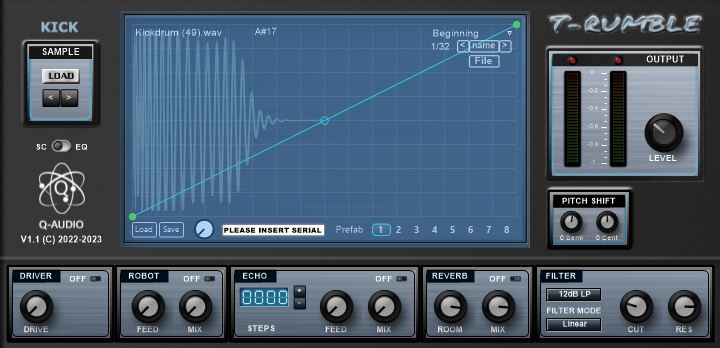 The user will find an internal soundbank including 83 powerfull kickdrums that can be browsed simply using the arrows buttons just below the load button.
The instrument can load .wav samples of any sampling rate and resolution.
Draw complex sidechain envelopes very easy with the multi point and curves editor.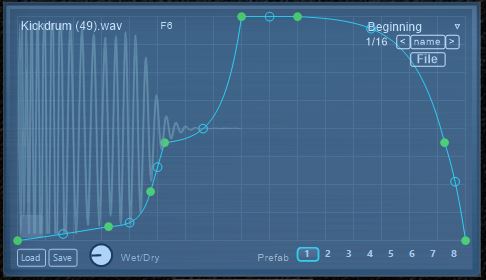 Kickdrum waveform is displayed on the screen background to have a reference when drawing the sidechain envelope
in order to achieve that perfect docking between the kickdrum and the rumble.
Equalize the rumble with a 4 bands equalzator.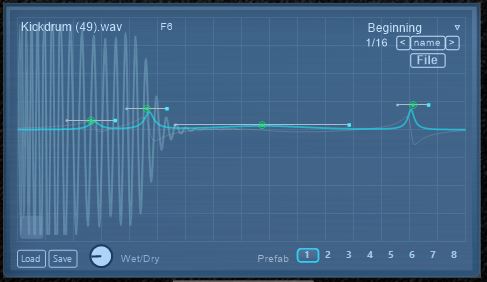 Each preset can store up to 8 sidechain envelopes as user prefabs. 
The instrument come with 32 internal presets.
Note: Is possible to utilize only one instance of the instrument into your DAW!
Note: This is for Windows only!
Fx chain including a Driver, a Robotizer, an Echo Delay, a Reverb and a Multifilter effect in a row then routed into a sidechain compressor thas is drived by the kickdrum itself as source
4 Bands Equalizator
Drawable sidechain envelope modulation including up tp 8 different prefabs envelopes for each preset
Pitch Detect to know the tone of the utilized kickdrum
Pitch Shift to tune in with your song
Internal sound bank including 83 kickdrums
Load your kickdrums in .wav format
32 Presets
VST2.4 and VST3
32/64 bits
Can produce Resonant, Fat, Subby, Noisy, Deep or Mechanic rumbles
FAC3OFF
This little beast produce a great range of rumbles and the sound is really compact
Bassfreq
These rumbles sounds perfect , great job!!